We understood that essential oils were effective for horses – though there was not much information to be had on it. But when one of our mares went into a deep depression after losing a foal in 2008 and nothing seemed to help, we needed to learn more. After extensive research, we began to understand how essential oils can affect the emotional, physical, mental and spiritual aspect of horses (and humans). After the oils brought Dawn out of her depression, we was so impressed, we began using oils regularly and began carrying our own line of therapeutic grade essential oils to ensure their quality, freshness and efficacy. Over time, we were asked to research and experiment with blends for different conditions, and now, Hidden Brook Farm offers an extensive line of essential oils and essential oil blends for both humans and animals. They are currently available online and at Aura Foods (downtown Fredericton) and PharmaChoice (Fredericton Junction).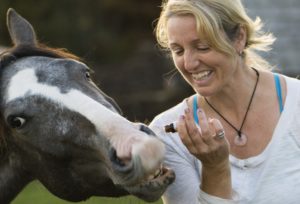 And our skin care came about because I developed allergies and sensitivities to the chemicals present in most commercially available skin care and it was really difficult to find skin care which did not contain these. Finally, I was able to create a Rose/Aloe cleanser which is just that – rosewater and aloe juice which is perfect for all skin types – and gentle but effective. It has helped clear up acne, rashes and dry skin and people love it. Our Jojoba and Lavender cream is wonderful as well. It soaks into dry skin and even relieves cracks on hands and feet while at the same time it incredible for the face as well. Lavender helps reduce the effects of the sun. And the jojoba provides deep moisturizing. The cream soaks into the skin and again, seems to work equally for all skin types. Our magic Detangle and shine leave in conditioner and detangler is incredible, bringing luster and shine to hair. For some reason it seems to thicken up thinning hair as well and is amazing for curls and straight hair alike. We also have Rosacea oil, natural insect repellent, a lovely marigold and vitamin E eye cream, a serious hydration night & dry skin cream, and acne oil and Raindrop Epsom salts (providing all of the benefits of a Raindrop essential oil treatment in an inexpensive bath).
How do we create our Reiki infused therapeutic essential oil blends? After researching the best single oils for the condition or emotion we are trying to re-create, I dowse to request divine assistance in determining the very best oil blend and to determine whether there is an oil not represented from the research which would be beneficial to our clients. Then, as I put the oils together, although I have already put Reiki into my single oils when I unpacked them, I put additional Reiki into the blend. Perhaps that is why people find our oils so helpful and enjoy them so much! In fact, dowsing can be used to determine the best oils for you. Simply hold the oil in question to your solar plexus (an energy chakra located just below the belly button) and ask "Will this oil benefit me?" as you think of the specific condition you are looking to alleviate or create. Then allow your body to sway. If you sway forward, the answer is yes. Backward, it's no. The sway is generally very pronounced. This is a way to access your sub-conscious mind to know what your body needs. If you don't have the oil with you, you can simply think of the name of it or look at the description on the essential oil pamphlet and will get the same results! Happy dowsing! PS this works for vitamins, to help choose meals and skin care. Basically anything that your body needs.
Here is a copy of our pamphlet and order form. We also have a "delivery" club, delivering in the Fredericton region the first Tuesday each month. Deliveries go to New Maryland, Fredericton Junction the DECH and the Killarney Road. Please let us know if you wish to be included in this. Oils can be mailed anywhere in Canada for $15 per $100 order so you can save yourself some gas and time, and send in an order to be mailed out!
Payment for the oils can be made by email transfer, PayPal or Visa/MasterCard. And also cash or cheque.
What can essential oils do?
Essential oils clean the air removing odors, toxins and metallic particles. They are regenerating, oxygenating, immune boosting, powerful anti-oxidants which affect emotions, mood, physical health, energy, mental health, stress and hormones.
DO NOT USE essential oils if pregnant or nursing. Please use in CONSULTATION with your DOCTOR or PHARMACIST if you are on medication. DO NOT get in EYES!
MENTAL-EMOTIONAL: Essential oils can change our mood and emotions as the olfactory portion of the brain is located in the same area as the emotions originate. Over 90% of our diseases and injuries are caused by blocked emotions in the body. Essential oils can help unblock the emotions allowing us to release them and restore health.
ENERGY: Essential oils can change the frequency of our energy. Everything on this planet has a frequency which can be measured. Normal body frequency is between 62 and 78 megahertz but when the frequency of the body goes below this, illness ensues. Essential oils range from 50-320 megahertz. Disease cannot live in a host where the frequency is higher than itself.
PHYSICAL: Essential oils can affect our hormones and our physical bodies with many of the different constituents which make up the oil. These work through the pineal and pituitary glands in our brains.
SPIRITUAL: Essential oils generally have an uplifting effect, both on the conscious and sub-conscious level. They can help us connect to our higher self.
HOW TO USE:
Burn in an essential oil burner or a diffuser to fill a room
Mix with a carrier oil to place directly on the skin
Dab a few drops on the bottoms of your feet, especially if your skin is sensitive or if you work in a scent free environment
Drop onto a pillow before sleep
Place in a bath or shower (absorbs into the body even more if used with Epsom salts)
Keep bottles handy to smell when you need
Wear as a perfume
Wear in an essential oil necklace/diffuser
Add a few drops to shampoo or shower gel
Mix with water and spritz throughout a room
Put a few drops on the dash of your car so that it always smells fresh, happy and inviting and to make travelling more pleasant
You can also get car essential oil diffusers!
It is important to note that essential oils are not medicine, nor should they be ingested or applied directly to sensitive skin (the bottoms of the feet are OK or with a carrier oil). They are MUCH too powerful. On ingesting oils, it is not really necessary as the oils are liptic acids which penetrate the skin very quickly, and quickly go throughout the body, so there is no need to ingest the oils and risk upsetting our sensitive gut flora. In fact, Essential oils begin to affect your body within 3 seconds of application and disperse through the entire body within 20 minutes. They are eliminated from the body through exhalation, perspiration, the skin and the bowels. The oils will be eliminated from the body in 3-14 hours, depending on the health of your elimination system.
Essential Oil Blends
Always healthy – Never Ill (Clove, Cinnamon bark, Lemon, Rosemary, Eucalyptus) – rub onto the bottoms of the feet daily or burn in an essential oil burner, diffuser or vaporizer for the whole family. You can also mix this blend with water and sprits throughout a room, on door handles, etc. This oil is awesome to prevent against illness.
Abundance (10% blend) (Orange, Clove, Cinnamon, Frankincense, Ginger, Spruce, Patchouli, Myrrh in apricot oil) –Attracts abundance and relieves feelings of scarcity. Wear as a perfume or put 5ml in a gallon of paint and paint a room. This oil goes really well in a diffuser as well and in an essential oil bracelet. Melissa says this is the first oil she fell in love with and her wallet has been full ever since she started using it! I notice a definite difference in my finances and the state of my wallet when I'm using Abundance oil as well!
Anxiety (Lavender, Clary Sage, Mandarin, Rose, Veviter) – eases anxiety, wear daily on the bottoms of the feet or keep with you to breathe deeply from the bottle any time you find your heart rate, breathing or anxiety levels boost. Anxiety is low level fear that is constant/never goes away. Empaths and people who feel and pull negative energy from others as well as people who are constantly "on" due to their cell phones/work, etc. often find themselves in a state of anxiety. In fact, it's become one of the most prescribed medication for youth recently. This is a more natural approach – which is easily as effective.
Aphrodisiac (Ylang-ylang, Patchouli, Orange Sweet, Lavender, Sandalwood, Jasmine) – promotes sexuality. Wear as a perfume or drop onto a pillow. I get very good reviews for this oil and who couldn't use a little help once in a while? A healthy sex life is – healthy!
Auto Immune Suppress (Copaiba, Lemongrass, Oregano, Rosemary, Neroli, Fir, Spruce, Hyssop, Blue Tansy, Myrrh, Spikenard, Angelica) – I was guided to create this oil to help a friend when she was diagnosed with her second auto-immune disease. And when I read Amy Myers' book, the auto-immune solution (a must read) I was stunned to understand how many of the chronic illnesses in society today are considered auto-immune – arthritis, fibromyalgia, lupus, multiple sclerosis, IBS to name just a few. This oil helps calm the immune system, eventually, when combined with dietary changes encouraging it to stop attacking the hosts' body. To use, rub onto the bottoms of the feet twice per day and alternate with Always Healthy/Never Ill.
Bereavement (Petitgrain, Sweet Orange, Ylang ylang, Rose, Clary sage in grapeseed and wheat germ oils) – massage onto skin at the shoulders and temples. Please consider using this oil in conjunction with "Present" oil. Widowers who used "Present" oil reported that they had their first full night's sleep since losing their spouses.
Chakra Balance (Lavender, Peppermint, Bergamot, Rosemary, Neroli, Palma Rosa, Rose, Fennel, Juniper, Jasmine, Cedarwood, Blue Tansy, Vetiver in a jojoba oil base) – use daily as needed to balance chakras – this oil was created from Doreen Virtue's essential oil suggestions for chakras in the Angel DeTox book and is one of my favorites! People who work with high vibrations of energy find it keeps them balanced. I wear it as a perfume and re-apply daily. It can also be diffused into a room to create a balancing and uplifting effect.
Children's Anxiety (Bergamot, Lavender, Chamomile, Rosewood and Ylang ylang in grapeseed, wheatgerm oil) –massage into skin or place on the bottoms of the feet. Some children massage a drop onto their tummies before heading to school. I've heard from quite a few of the children who use this oil regularly that it really helps their tummies or it helps them manage school. If your child suffers from anxiety, there is a good chance they are sensitive to energies and could also benefit from a child Reiki class.
Children's Dreamtime – certified organic (Ylang ylang, Chamomile and Lavender in Sunflower, Soya, Perilla seed oil) –massage into feet or skin and/or put a drop onto pillow. You can also diffuse the oil into the room. Parents report that their sleep improves immensely as a result of using this oil with children who have difficulty falling asleep or sleeping through the night. It does take time to establish new patterns. You may simply notice that a child sleeps a bit longer before waking up at first but stick with it. In a few weeks, most children begin sleeping better and often through the entire night.
Cold Sore Oil (Peppermint, Lavender, Lemon, Bergamot, Melissa, Geranium, Roman Chamomile in jojoba in organic Hemp Seed oil) –I suffer from cold sores on occasion and never really found an effective solution. Then I got a nudge that essential oils could be the solution. They are anti-viral, anti-fungal and anti-bacterial and cold sores are a virus. So with a little research, this magical oil was created. Simply rub onto a cold sore as early and often as you can, being careful not to ingest the oil.
Depression (Bergamot, Lemon, Clary Sage, Frankincense, Sandalwood) -restores energy and sense of purpose; releases stagnation; helps us see new direction. Use daily on the bottoms of feet, diffuse into a room and wear as a perfume. Keep on hand to breathe as needed. This oil really breaks up the cycle of stagnation that many people feel when they are in the throes of depression. It has an uplifting effect and can work alongside medication or on it's own. Please consult with a pharmacist or doctor however, if you plan to use it in conjunction with medication to ensure that they do not negatively affect one another.
Ear Oil – (Peppermint, Rosemary, Tea Tree, Wintergreen, Lavender, Clove) I created this oil for my daughter when she had a bad ear infection. Doctors don't usually prescribe anything for ear infections anymore, so she asked me to help her with oils. In 3 days, her ear infection was completely cleared up and I have heard many similar stories. This oil also helps with swimmer's ear and to an extent with wax build up. To use, put 2-3 drops on a cotton ball and place in the ear overnight. Ear infections and swimmer's ear are usually cleared up in under a week.
Energy (Peppermint, Rosemary, Lemon, Eucalyptus) – absolutely uplifting and revitalizing. Keep in your purse or pocket for instant pick-me ups, diffuse into a room and share with friends as needed. People just LOVE taking a big whiff of this oil when their energy is flagging. I also diffuse this oil in Reiki classes, as it helps purify and amplify the energy already present in class.
Energy Balance (Spruce, Frankincense, Blue Tansy, Rosewood, Fir) – use to balance energy and with Raindrop Treatment as a finishing oil. I originally created this oil as a finishing oil for a raindrop treatment. We do Raindrop treatments for our horses 3-4 times per year to assist them in releasing toxins, balancing their energy, increasing their immune systems and raising their frequency or vibration. This oil has proven that it stands on it's own however and is really enjoyed by people who feel they need a balancing effect on their energy. Some of us are called Type A personalities and tend to rev up to high quite easily. If this is you, this oil will help to keep your energy balanced and will quickly become a favorite. It can be worn or diffused in a room.
Faith/Belief (Balsam Fir, Rosewood, Frankincense in Almond oil) – balances emotions, uplifting, helps you reach your unlimited potential. Wear as a perfume, diffuse into a room and keep on hand to breathe in as needed. I was asked to create this oil by a person whose faith was flagging. It helped, and it quickly became a favorite oil of mine and others as well. I keep it with me and use whenever my faith is tested, or when I need a boost.
Fear (Grapefruit, Bergamot, Orange, Clary Sage, Frankincense, Jasmine %, Roman Chamomile, Veviter, Sandalwood) – Helps us release and move past fear. Wear daily on the bottoms of feet and keep on hand to breathe in in stressful situations. Working with horses can often trigger fear in people so we dug in to help us understand this phenomenon better and developed a fear clinic. As we got a better handle on the mechanics of fear and understood as well how much it can limit people or stop them from reaching their potential, we also began to understand that like most emotions, fear originates in the primal portion of the brain next to the olfactory senses and therefore can be influenced by essential oils. People report that it works really well!
Fertility blend for both men and women (Peppermint, Bergamot, Fennel, Geranium, Sage, Melissa in Wheatgerm and Grapeseed oil) Women, rub into the lower back, lower abdomen and near pubic bone; Men rub into ankles, Achilles tendon and near pubic bone. Detox and eat an alkaline diet as well for best results.
Flea oil (Eucalyptus, Lemongrass, Citronella, Pine, Blue Tansy) – add 3-6 drops to shampoo and wash dogs and cats (my cats don't love this!) and add ½ tsp to 3 oz water and spray floors or carpets after vacuuming and sealing or removing the bag from the home. Wash bedding in hot water and dry in dryer after adding 8-10 drops of essential oil and add a few drops to clean bedding as well to discourage the pests.
Focus & Clarity (organic) (Peppermint, Rosemary, Lemongrass, Cajeput) – awakens the mind, illuminates thoughts and heightens senses, improves mental clarity and concentration. Great for completing paperwork or tasks that can prove difficult. Usually reduces the time needed to do this. Put in a diffuser close to your working space or put on the bottoms of the feet if you suffer from lack of focus. This oil really seems to help individuals with ADHD if they wear it daily. Some bring it with them to breathe in when they are in class or in a situation that they need to concentrate. I use it to help when I am doing paperwork or other tasks I don't enjoy and it seems to cut the time required in half!
Grounding (Cedarwood, Ylang-ylang, Juniper, Spruce, Fir, Angelica) – helps to ground; great for energy workers and artists or after meditation. Also great after intense energy work or courses where a lot of shifting is happening. Helps with manifesting – bringing energies into the physical plane. Many times when the things we receive in meditations do not manifest into the physical world, it is because our energy is ungrounded. This oil can help. I was asked to create this oil by a talented artist who knew she needed help grounding but really did not like the smell of patchouli. I'm so glad she asked because we all love this oil, it is delightful!
Happiness (Grapefruit, Orange, Lemon, Rose, Neroli) – brings happiness to the forefront of your emotions. Diffuse in a room or wear as a perfume or on the bottoms of feet. I'm often asked what the difference is between the Happiness and Joy oils. I find happiness brings more of an external emotion, one for sharing. So I use it if I have people coming over or if I want to create the feeling of happiness among my family or the people invited to my home. Or if I am going out into a crowd. I use Joy when it's just me and I want to create a more internal emotion for myself.
Headache blend (Peppermint, Rosemary, Lavender in Grapeseed oil) rub into the base of the skull and affected area, do not use near eyes. Can also diffuse into the room and breathe in as needed. For people who suffer from Headaches, use over time generally reduces the headaches so that they are not as prevalent. The oil works quite quickly on headaches – but please note, migraines are a different creature and require a different oil.
Heart Health (Lavender, Lemon, Frankincense, Ylang Ylang Clary Sage, Basil and Helichrysm) lowers blood pressure and supports heart health. Please use only in consultation with a doctor if you take medication, as essential oils can affect medication. Rub into the bottoms of feet daily. I was guided to create this oil to help my husband lower his blood pressure without medication.
Immune Boost (Frankincense, Tea Tree, Rosemary, Lemon, Eucalyptus, Orange Sweet)–strengthens immune system. Wear daily on the bottoms of the feet and diffuse into a room. This oil is a staple for people during cold and flu season, especially if they are exposed to people on a regular basis, like in schools, hospitals, retail or public buildings. When the immune system is healthy, even with germs around, you won't get ill! Your vibration will be too high.
Invigorating (Sandalwood, Black pepper, Lemon) – for vigor and mental strength. Wear on the bottoms of the feet and keep handy to breathe in as needed. This is a wonderful oil for physically active individuals, especially just before physical activity. It really inspires!
Insomnia (10% blend of Roman Chamomile, Clary Sage, Bergamot in almond oil) – rub one drop into the base of the skull then put one drop on pillow and SLEEP! One of our most popular sellers! I was asked to create this oil by a client who had been on sleeping pills for 3-4 years, still wasn't sleeping well and did not enjoy the "hangover" she felt in the mornings. She wanted to get off of the sleeping pills but also wanted to sleep. She helped me test different blends until we got it right – and then found she slept better with the essential oil than she ever had with the sleeping pills! People tell us that it is easier to fall asleep and also that they sleep uninterrupted when using this oil. Many people have used it to replace sleeping pills – and report better results. I normally sleep well, but keep it on hand for times when I don't. It works immediately for me when I use it, and I get a good, solid night's sleep. If you are a shift worker or someone who has't slept well for a long time, give it a few weeks. It will need to re-set your sleep patterns, and then you will find your sleep improves.
Inspiration (Orange, Lemon, Melissa, Myrrh, Juniper, Spruce, Cypress, Ylang Ylang, Cedarwood, Blue Tansy and Fir in Almond oil) – My daughter needed help to re-focus on her studies in the second semester of grade 12. She wanted to get into Pre-Medicine in University and needed great marks, but had lost her drive and asked me to create an oil to help her – so Inspiration and Motivation were born. Inspiration brings hope and inspiration to any area of your life. It's particularly helpful to artists – and Melissa who makes our gorgeous crystal essential oil bracelets says she always diffuses it as she creates. To use, wear as a perfume or diffuse into a room.
Joy (Lemon, Bergamot, Roman Chamomile %, Rose %, Jasmine %, Mandarin, Geranium, Rosewood, Ylang-ylang, Palma Rosa) – creates magnetic energy, brings joy to the heart; inspires romance & togetherness; refreshing/uplifting. Wear as a perfume, diffuse into a room, place a drop on a pillow or keep handy to breathe in as needed. Joy creates more of an internal feeling, while Happiness is for sharing.
Liquid Sunshine (Orange, Grapefruit, Lemon, Mandarin, Tangerine, Wintergreen) – immune boosting antioxidant, improves well being, creativity, brings joy and is a great air purifier. A few drops in a litre of water with a bit of stevia makes a refreshing drink. Diffuse into a room to bring sunshine inside on the darkest day. Please be careful when consuming essential oils that they are very dilute so that they do not damage your gut flora.
Mary Magdalene (Pure Spikenard in Olive oil) –this is the oil Mary Magdalene used to anoint Jesus' feet & hair prior to his crucifixion. It is useful in transformation & sacred spiritual ceremonies when either burned or diffused into the space, or rubbed into the hair, palms and/or feet. This oil was used for at least 5000 years BC, always during sacred spiritual ceremonies to signify and assist with transformation. For this reason, I always diffuse the oil during our Reiki classes when connecting the student to the source of Reiki, ultimately a life changing experience which brings about great transformation.
Meditation (Ylang-ylang, Patchouli, Frankincense, Clary Sage, Orange Sweet, Thyme) – helps bring about a meditative state. Diffuse into a space or wear on pressure points of the feet or diluted as a perfume. This oil is wonderful for treatment rooms to bring about a relaxed and receptive state and is also great for meditation or yoga.
Mental Clarity (Bergamot, Basil, Lemon, Grapefruit) – enhances mental focus; for tasks requiring clear, decisive mental thought. Wear on the bottoms of feet daily, as a perfume or diffuse into a space. This oil is also very helpful in making decisions.
Menopause (Peppermint, Lavender, Fennel, Sage, Myrtle Blue Tansy) – balances hormones for women in Menopause, can also reduce the intensity of hot flashes. Wear daily on the bottoms of feet and keep on handy to breathe in as needed. If you suffer from extreme hot flashes, pair this oil with our organic lemon oil and put on the bottoms of the feet daily and in a few weeks, hot flashes will be a thing of the past.
Man-opause (Peppermint, Lavender, Lemon, Clary Sage, Fennel) – balances hormones for MEN in Andropause (40-60 yrs). Wear daily on the bottoms of the feet and keep handy to breathe in as needed.
Migraine Blend (Lavender, Rosemary, Grapefruit, Neroli, Marjoram, Rosewood, Eucalyptus in Apricot oil) – This oil was created when an oil client requested help with her persistent migraines. She helped me test the formula and we realized quickly that headaches and migraines were two entirely seperate creatures. She finds that if she can catch her migraine quickly, the oil is all she needs. And if she cannot, she pairs the oil with the medication that used to be her first line of defense for quick relief. She is also not experiencing as many migraines as she used to. To use: rub into the base of the skull, shoulders, affected area and areas of tension in the body. Works best when the migraine is caught in its' early stages. Do not get into eyes!
Muscle Relax (Fir, Basil, Marjoram, Spruce & Wintergreen) – rub on affected muscles to reduce pain, swelling and muscle knots. Also used as a finishing oil in the Raindrop Treatment. This is a wonderful oil for people with tight, tense or knotted muscles. And for a LOT of pain relief, use after taking a soak in our "Raindrop Epsom Salts". Several clients have use this combination to ease severe back pain effectively, and eventually the back pain left.
Nausea (Peppermint, Spearmint, Lavender, Juniper, Fennel, Clove and Nutmeg) I was asked to create this oil by an individual experiencing nausea from chemotherapy. It helped immensely along with weekly Reiki treatments. We have found the blend works on all nausea. To use: rub behind the ears, over the stomach and on the feet. It's helpful to rub it into the hands and breathe in as well, sweeping the air around the body with the hands afterward. You can also diffuse into a room.
Pain Away (Wintergreen, Peppermint, Clove, Helichrysum) – This oil soothes the skin, comforts & warms muscles, ligaments, tendons and stiff joints. It's particularly useful for "bone pain" such as arthritis or pain caused by or felt in the bones. Blend with a carrier oil and apply to affected area. For deeper ligament and soft tissue issues, like sciatica, persistent back pain or fibromyalgia, try deep tissue pain.
PMS blend (Grapefruit, Lavender, Juniper Berry, Marjoram , Neroli, Birch, Geranium & Rose) I was asked to create this blend by a client who suffered from severe PMS symptoms. We have found it helps immensely with breast soreness and mood/hormonal issues. To use: rub a few drops daily into the bottoms of feet or over the stomach for relief of PMS symptoms. Use every day, not just during the menstrual cycle for best results. It is helpful rubbed on the coronary bands of moody mares (horses) as well.
Power (Peppermint, Lavender, Eucalyptus, Spruce, Myrtle, Marjoram, Pine, Cypress) – amplifies power and is helpful when used along with deep tissue pain for deep tissue issues such as plantaar fasciitis, sciatica, etc. To use: rub into hands before performing energy work or rub into affected area before adding deep tissue pain or pain away. Wear in an essential oil bracelet if you need to come into your own power. It is also a lovely oil to diffuse into a room or use on the bottoms of the feet. Useful to help us step into our power.
Present (Neroli, Grapefruit, Spruce, Ylang-ylang) – the secret to happiness: living in the present not looking ahead or back . Although I created this oil for myself – to ensure that when I was in the round pen training a horse I was fully and completely present as a mistake could lead to danger or distress for myself and for the horse, I found that I was drawn to wearing this oil daily and that it brought great joy to my life as it prevented me from looking ahead or back – and I remembered that according to a meditation teacher I studied with a LONG time ago, the secret to happiness is being fully and completely present in any given moment. Then another client found an amazing use for the oil that I had not considered, she was a grief counsellor, visiting widows and widowers and was guided to rub a few drops onto the collar of clients shirts and place a drop on their pillows. Her clients contacted her afterward to tell her that they had the first full night's sleep they have had since losing their loved ones and felt MUCH better. She buys several bottles at a time now and I had not considered that this wonderful oil could help with that most difficult of emotions, grief. To use: wear as a perfume, place a drop on a pillow or in a car and keep handy to breathe in as needed.
Relaxation (Lavender, Marjoram, Patchouli, Mandarin, Geranium, Chamomile) – What a popular oil this is, we can't keep it on the shelves. But who can't use a bit of relaxation at times. This oil creates a peaceful, relaxed state. Diffuse into a room, place a drop on a pillow, wear on the bottoms of the feet or put in a bath or shower.
Release (Ylang ylang, Lavender, Geranium, Sandalwood, Blue Tansy in an Olive oil base) – helps release debris from the past. Useful with energy treatments, meditations, any time we need physical, mental or emotional release. Diffuse into a room, place on the bottoms of the feet or rub into the hands and sweep the aura. Be sure to use when you can be alone afterward, as this oil goes deep and if you need to release discomfort or emotions, you will feel better doing this in private. Many clients have shared that this oil brings tears, grief, anger or other buried emotions to the surface so that they can leave – but that they prefer to let these emotions process in private. This oil really supports the work of Reiki practitioners and energy workers as well.
Sacred Forest (Cedarwood,Pine and Oakmoss absolute) Diffuse into the room and breathe. Particularly poignant for sacred ceremonies. This oil brings the forest into your home! Incredibly fresh and poignant.
Sensuality (Ylang ylang, Patchouli, Sweet Orange, Sandalwood & Jasmine (3% blends) – Wear as a perfume or in a diffuser. This is a great oil for "date night" as it makes the wearer feel SO sexy and beautiful. This feeling amplifies through the course of the date. And there's nothing more beautiful than a person who knows they are sexy and beautiful!
Sinus Relief (organic) (Cajeput, Peppermint, Vetiver, Chamomile) – relieves sinus pain/pressure, unclogs blocked sinuses for comfortable breathing, eases pressure headaches. This oil is great for colds. Diffuse into a room, place in a vaporizer or wear on a cotton ball tucked into a pillow or clothing. Also great worn on an essential oil necklace.
Sinus Relief (for allergies) (Peppermint, Eucalyptus, Cajeput, Wintergreen, Juniper, Clove bud, Veviter, Chamomile) – relieves allergy sinus symptoms (use on pillow) & diffuse in the air of bedroom at night. Sinus issues as a result of allergies are a completely different issue than those that result from colds and require a significantly different oil. I was asked to create this oil by a friend who really suffered from allergies. When I asked her what she was allergic to, she said "life" and "living". That's not good! She has experienced such significant relief from using this oil nightly that she is able to "live" again! And many, many others receive similar relief from allergy symptoms so that they can get back to living.
Spiritual Protection (Bergamot, Ylang Ylang, Rosewood, Sandalwood, Geranium, Myrrh, Rose, Melissa in almond oil) – I was asked to create this oil by a teacher who was also a strong empath and who found that she was regularly taking on the energy of her students until it made her ill. "I need help, can you do something?" she asked. With a little research, we realized that essential oils can help to create an energetic barrier for those who are energetically sensitive to others. To use: rub into palms, breathe in & sweep aura with a prayer for energetic protection. This oil is very helpful for empaths or people who find themselves in a negative energy environment. It can also be diffused into a room, placed in a vehicle, etc.
Stress Relief (Bergamot, Patchouli, Blood Orange, Ylang-ylang, Grapefruit) – This is very similar to the very first oil blend I purchased from a friend who moved a few years back and no longer sells her oils here. At the time I was a senior executive in a dynamic company and went through bottles of it, experiencing great relief and peace from my frantic and hectic lifestyle. This oil really reduces stress and its side effects. To use: wear on the feet, diffuse into the air or place in a bath or shower. It has a lovely smell!
S.A.D. (weather blues) (Grapefruit, Orange, Bergamot Ginger, Neroli) – We all experience weather blues when we do not see the sunlight. This essential oil brightens bleak days and is remindful of spring and positive change. To use: diffuse into a room and wear on the bottoms of the feet if lack of sunlight affects you.
Strength & Courage (Frankincense, Spruce, Rosewood, Blue Tansy in Apricot oil – 50% blend) This oil is the first oil used in the Raindrop Essential Oil treatment but is also so much more! It is empowering and works with physical and spiritual body to increase feelings of strength, courage and self-esteem. It enhances internal resources and energy alignment. It can be a liquid chiropractor helping to align the spine, especially when used with our oil "Liquid Chiropractor" and a warm, damp towel. It can be used along the spine or joints, used in a Raindrop treatment, diffused in a room or worn as a perfume.
Thyroid Balance (Peppermint, Rosemary, Sage, Myrtle, Clove, Roman Chamomile, Geranium, Myrrh and Sesame oil) – I was asked to create this oil by a few clients who were struggling with their thyroids. Some suffered from hypo-thyroid and some hyper-thyroid. I thought I was creating two oils, one for each condition, but once this one was created, I was told that it works for both hypo and hyper active thyroids. To use: rub into the thyroid and adrenals.
Wart Oil (Lemon, Tea Tree, Bergamot, Thyme) – I was asked to create this oil by a nurse with a large, stubborn wart on her hand. She did not like to treat clients with this hand, and kept it covered by a band-aid as it had not responded to another treatment. After two weeks with this oil, it completely disappeared, leaving no trace and never returning. Later my son used it on several warts on his hands with great effect. The really neat thing about this oil is that it does not damage the skin around the wart at all as many of the other treatments do and is safe even for children (though please check with the pharmacist before using with children under 10). The oil even works on Plantar warts as the oils are anti-viral, anti-bacterial and anti-fungal so these things (which is what warts are) cannot exist in their presence. To use: apply 2-3 times per day and cover with band-aid. My first client says to put a drop on the band-aid as well and to rub it against the wart several times per day. This oil will not damage healthy skin.
Single ESSENTIAL OILS:
Basil
Bergamot
Carrot Seed (3% blend)
Clary Sage
Cypress
Eucalyptus
Frankincense
Ginger
Grapefruit
Juniper Berry
Lavender
Lemon
Marjoram
Orange (sweet)
Patchouli
Peppermint
Roman Chamomile (3% blend)
Rose Damask (3% blend)
Thyme
Tea Tree
Violet Leaf (3% blend)
Wintergreen
Miscellaneous
Dowsing rods
Reiki Touch Kits
Reiki magazines featuring Hidden Brook Farm:
Fall 2013
Fall 2015
Winter 2015
Raindrop Essential Oil treatment Kit: The Raindrop treatment is a wonderful way to treat back pain, raise the vibration and boost the Immune System. It also helps to pull impurities from the body. It is a wonderful treatment for both people and for horses. Our kit contains 10 bottles of pure essential oils – and most are organic. Directions for performing this treatment for both humans and horses are included with the kit. And kits are available in 5ml bottles and 10ml bottles and are a much better value than when purchased individually..
SKIN CARE:
– natural and effective for ALL skin types:
Rose-Aloe cleanser (for all skin types) –I created this when I developed skin allergies to all types of skin cleansers and creams and a rash on my face, eyes and neck. Rose-Aloe cleanser is simply a blend of Rose water and Aloe juice. It is wonderful for sensitive skin, can be used around the eyes, cleans without stripping and works for all skin types. Dry skin feels better while acne prone skin clears up as well. Best if used with Jojoba and lavender cream and our eye cream. In cold weather, weather barrier helps. And for acne prone skin, use with Organic Virgin Coconut oil.
Jojoba and lavender cream (all skin types dry, normal, oily, eczema or dermatitis) this cream is readily absorbed into the skin with it's jojoba base, and the lavender is incredibly beneficial to the skin. Use on face, hands and any other skin which needs moisture. Many users report reduced facial wrinkles, dark spots or an evening of skin tone. People whose hands crack in the winter experience huge relief.
Weather Barrier (breathable prevents moisture loss) this is great to use after Jojoba and lavender cream in winter and extreme weather.
Marigold and Vitamin E eye cream – this eye cream goes beautifully with the other skin care products – and effectively and along with Reiki erased the eczema around my eyes.
Roseacea oil – this helps reduce the redness and pustules which occasionally go along with Rosacea. It is incredibly effective and 100% natural. A little bit goes a long way.
Eczema oil – try if the Jojoba and lavender cream do not work
Magic Detangle & Shine hair detangler – Not only does this detangler smooth and soften all hair types, it reduces frizziness and thickens thin hair. It also helps hair grow and has a soothing aroma!
Raindrop Epsom Salts – if you are unable to get a Raindrop treatment, this is the next best thing. The Epsom salts bring the essential oils into your body, raising your vibration, improving your immune response and helping with pain and misalignment. A few tablespoons in a bath makes the whole house smell wonderful!
Seasonal Blends
'Tis the Season (Sweet Orange, Peppermint,Fir, Pine, Cinnamon and Clove) Diffuse into a room to create a festive mood..
Winter Solstice (Sweet Orange, Cinnamon and Clove) for a more earth based celebration and to brighten dark winter days and nights. Diffuse into a room.
Spring Equinox (Bergamot, Rosemary and Benzoinel) this is remindful of the earth waking up, of Daffodils, hope and new beginnings. Diffuse into a room and breathe in as needed. For Renewal.
Summer Solstice (Tangerine, Lime, Palmarosa, Juniper Berry, Eucalyptus, Geranium and Neroli) This oil cools, regenerates and relaxes. Diffuse into a room and breathe in as needed.
Autumn Equinox (Frankincense, Sandalwood, Cypress, Juniper, Pine, Rosemary and Oakmoss absolute) For reaping and harvest, preparing for a new, slower phase. Brings satisfaction and contentment. Diffuse into the room and breathe in as needed.